Golden eagle rears chick in wild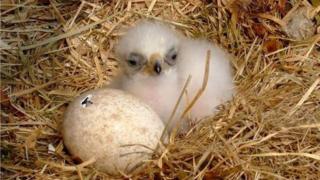 An Irish bred golden eagle has successfully reared a chick in the wild for the first time in more than 100 years.
Golden eagles were wiped out in Ireland through habitat changes and widespread hunting in the early 1900s.
A scheme to reintroduce the birds of prey to Ireland saw a number of Scottish-bred chicks released in County Donegal between 2001 and 2012.
Three separate pairs of golden eagles fledged a chick in 2017 in Donegal.
Lorcan O'Toole, of the Golden Eagle Trust, said the births were a boost to a fledgling Donegal eagle population.
"While this fragile population is still confined to Co Donegal, the addition of three healthy juveniles to a small population, a total of 20-25 birds, is a very welcome boost," he said.
The latest success is the result of a project which began in Glenveagh in 2001.
Mr O'Toole said there were now eagle pairs in the Derryveagh and Bluestack mountain ranges as well as the Glencolumbkille and Inishowen peninsulas.