North West 200 to review 'grid girls' policy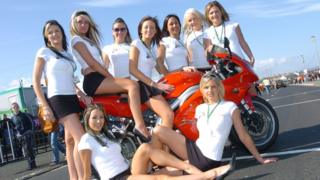 The use of so-called grid girls at the North West 200 motorcycle races is to be reviewed ahead of this year's event.
The review comes after Formula 1 announced the promotional models will no longer be used from the start of the 2018 racing season.
North West 200 race organisers have since confirmed that the use of grid girls would be reviewed.
The NW200 is one of Northern Ireland's largest annual sporting events and attracts more than 85,000 spectators.
The 2018 International North West 200 race week begins on the north coast 13 May.
Race Director Mervyn Whyte told BBC Radio Foyle he was surprised to learn of the move by Formula 1 bosses.
Mr White said grid girls had been "part and parcel" of the North West 200 for a number of years.
He said they were primarily used to highlight sponsor and bike manufacturers' branding, and did so in an unpaid capacity.
"It is something we will look at, something we will review," he said.
"If we feel that it is no longer appropriate, we will make changes in relation to the North West 200."