Regiment flags 'used to hurt 'Bloody Sunday families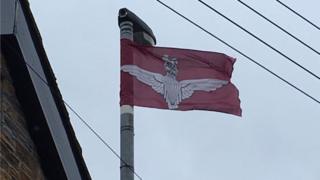 The flying of Parachute Regiment flags on the anniversary of Bloody Sunday in Londonderry was shameful, an Ulster Unionist MLA has said.
Doug Beattie, a former Army captain, said the flags were being used to hurt the families of those killed and injured.
Fourteen people were killed on 30 January 1972 when paratroopers opened fire on a civil rights march.
The flags were erected in Newbuildings.
Mr Beattie told the Belfast Telegraph: "That is totally shameful to do that, because it is only done for one reason and we all know what that reason is.
"As for people who say that they are putting up that flag to remember the paratroopers who were killed in Northern Ireland throughout the Troubles, I say to them this - this does not remember their memory in any shape or form.
"It is not something that they would want. It is not something that their colleagues would want to see. It is using the memory of these men in order to hurt the Bloody Sunday families."
Meanwhile, Sinn Fein MLA Raymond McCartney described the flags as "provocative and disrespectful", saying they had caused upset to a number of people in Derry.
"They are clearly designed to hurt the families who had loves ones murdered and injured on Bloody Sunday," he added.