Magee expansion: £11m teaching block opens at Derry campus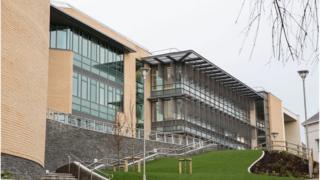 A new £11m teaching block has officially opened at Ulster University's Magee campus.
The building in Londonderry covers a floor space of almost 4,000 sq metres, include a 314-seat lecture theatre, 20 classrooms and a cafe.
Ulster University said the facility represents a major investment in "world-class teaching space".
Dr Malachy Ó Néill, Provost of the Magee campus, said it is also a "huge civic asset" for Derry.
He said:" Facilities such as these are vital to ensuring we have the best quality teaching environment for our students whilst also serving the needs of the wider community and supporting economic growth in the region."
Ulster University's Vice-Chancellor Professor Paddy Nixon said the opening of the teaching block underlines "a commitment to expansion in the north-west."
"It is a major boost for our staff and current students and also paves the way for enhanced future capacity on the Magee campus in line with our broader expansion plans," he added.