NI political impasse 'failing victims,' says Alan McBride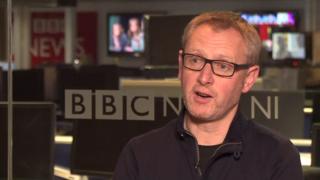 A campaigner whose wife was killed in the Shankill bomb in 1993 has said Troubles victims are being let down by the political impasse at Stormont.
Alan McBride said the stalemate puts Northern Ireland "on the threshold of becoming the laughing stock of Europe".
Northern Ireland has been without a devolved government for a full year.
Mr McBride made his remarks while addressing the "Past is Present" event in Londonderry, hosted by the Bloody Sunday March Committee.
Last year, Northern Ireland's coalition government - led by the Democratic Unionist Party (DUP) and Sinn Féin - split in a bitter row over a botched energy scheme.
Several attempts at restoring power-sharing have ended in failure.
'Shameful'
Mr McBride said the subsequent political void is failing victims and accused both parties of "holding back progress".
"A lot of victims are becoming apathetic. It's up to our politicians to put aside their petty differences.
"That we don't even have a government sitting together is nothing short of shameful."
Mr McBride's wife, Sharon, was one of 10 people who died when an IRA bomb exploded in her father's fish shop on Belfast's Shankill Road in October 1993.
She was one of more than 3,600 people killed during the Troubles.
The Derry event was organised to remember the victims and highlight the experiences of survivors.
'No faith'
Among the other speakers was Eugene Reavey, who lost three brothers in loyalist gun attack in January 1976.
John, Brian and Anthony Reavey were fatally wounded when an Ulster Volunteer Force (UVF) gang opened fire in their family home in Whitecross, County Armagh.
Mr Reavey told the event he no longer has any faith in politics.
"Victims are very, very, far down their scale," he said.