Londonderry flood victim quoted £10k for insurance excess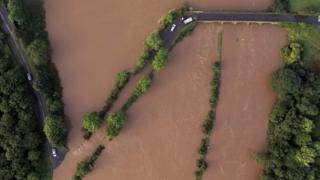 A County Londonderry man whose house was flooded last summer has been told he will have to pay an insurance excess of £10,000 if it floods again.
Russell Avril's property in Eglinton was one of hundreds flooded in the north west of Northern Ireland last August.
Insurance company NFU Mutual has now quoted him a policy renewal that sees the excess rise from £250 to £10,000.
Mr Avril described the 3,900% hike as "outrageous."
"It was a one off, freak flood," he said.
"I think it is ridiculous and outrageous that they can do this."
Almost two-thirds of the average monthly rain fell across the region in an eight-hour period on 22 August 2017.
'Landlord's policy'
The flooding completely destroyed the downstairs of the house which Mr Avril rents out to tenants.
"It took a lot of money to repair and the insurance has covered that," he said
"The downside is that I have now had a policy renewal in and the excess is up to £10,000.
"We take out insurance so we don't have to be out this sort of money - who has £10,000 to hand out?"
NFU Mutual said in a statement: "We base our insurance cover on a number of factors including previous claims, information from flood databases and whether it's for a private home or a landlord's policy.
"In this case, the increased excess will only apply to storm or flood claims - and not other risks."
The insurance company said as the property is rented, cover is not supported by the national Flood Re scheme - a system set up to help households who live in a flood-risk area find affordable home insurance.
"As a typical flood claim can easily cost tens of thousands of pounds, when there is a risk of repeated flooding and the Flood Re scheme cannot come into effect, we seek to share our exposure to future claims costs with the property owner," they said.