Safety concerns over Donegal shipwreck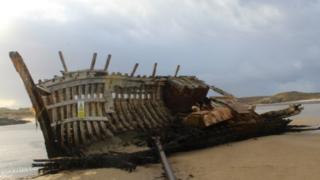 Renewed safety concerns have been raised about one of County Donegal's most recognisable landmarks.
Bád Eddie is the wreck of a fishing vessel that washed up at Magheraclogher beach in the 1970s.
The wreck featured in the music video for In a Lifetime, a 1985 collaboration between traditional Irish group Clannad and U2 frontman Bono.
But in recent years the condition of the wreck has seriously deteriorated.
Independent Donegal councillor Micheál Cholm Mac Giolla Easbuig said there is a sense locally that "something has to be done."
Last year Donegal County Council placed signs on the boat urging people to stay away.
"There is a real concern in terms of health and safety," said Mac Giolla Easbuig.
"You have a lot of people coming down (to the boat) and there are nails and sharp objects there."
He said what becomes of the boat has been discussed at length over recent years - including in 2016 when it was proposed that it be removed by Donegal County Council and replaced with a statue.
"Nobody wants to see it gone, but everybody knows something has to be done.
"Something needs to be done, we all realise that - what exactly I am not so sure," he added.
He said perhaps the weather may intervene.
"As storms get more common and stronger, I imagine it will give and split. I have thought this year may be the year."
Originally built in France, the boat was bought by local fisherman Eddie Gillespie in the 1970s.
In the four decades since, it has become both one of north west Ireland's most photographed landmarks and synonymous with the region.
"Most people would recognise the image of Bád Eddie and be able to identify that it is west Donegal, that it is the Gaeltacht," said Mac Giolla Easbuig.
Donegal County Council said there were no plans to remove the boat, nor replace it with a monument.
"This council is available to deal with unwanted end-of-life vessels by arrangement with owners," said a spokeswoman.