Jackpot Lotto win unclaimed in Donegal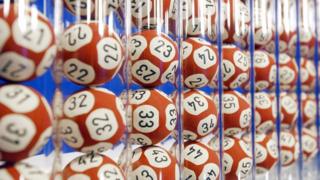 A Lotto jackpot winning ticket sold in County Donegal worth 4.4 million euros (£3.9m) has yet to be claimed, the Irish Lottery has confirmed.
The owner of the ticket matched all six numbers in the Lotto draw on Saturday 13 January.
The winning numbers on that date were 1, 2, 7, 33, 34, 40 and the bonus number was 6.
It is the 90th jackpot-winning ticket sold in Donegal since the Irish lottery launched in 1988.
The golden ticket was sold in Daly's service station in Lifford, a town that lies on the border with Northern Ireland.
An Irish Lottery spokeswoman said they are yet to hear from the winning ticket holder, and urged players to check their tickets.
"We are reminding all our players, especially those on both sides of the border, to check their tickets," the spokesperson added.
"Maybe they are taking time to reflect and choose the best moment to come forward. Or perhaps they are not aware they have won."
Last Saturday's jackpot had been rolling over since 23 December.