Magilligan Prison parkrun first in NI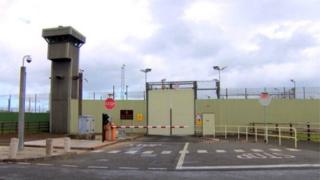 Prisoners at Magilligan have become the first in Northern Ireland to take part in a parkrun event.
The run was held within the confines of the prison and saw inmates and staff involved as walkers, runners and volunteer organisers.
Magilligan Governor Gary Milling said the event would "break down barriers" and "rehabilitate" prisoners.
Parkrun organises free, weekly, 2km and 5km timed runs that take place all around the world.
'Very successful'
HMP Haverigg in Cumbria made history last year when it hosted the UK's first weekly parkrun.
"Of course I can understand why individuals would be nervous," Mr Milling told the BBC.
"But what we're looking to do by way of resettlement for people in our care is to improve community understanding.
"The people who come into custody in Northern Ireland are full time members of our community but are also part time prisoners.
"Magilligan is particularly community facing and we're looking to try to break down those barriers to help people resettle," he said.
"We are running this completely inside the jail, inside the secure part of the jail - at no time will anybody be outside the jail who has been committed to our care by the courts."
Ordinarily, participants register online, where they are issued with a barcode. This gets scanned at the race and gives confirmation of completion as well as tracking individual run times.
Parkrun Ireland Co-ordinator Matt Shields said just over two dozen prison have made enquires about holding similar events.
"We can see there are great benefits to be had for the participants and what we want is to take parkrun to those people who would gain the most and this is certainly an example of that," he said.
"HMP Haverigg in Cumbria has been active now for about nine weeks, it's been very successful and there's been some very good feedback.
"We now have 27 enquiries now from other prison establishments looking to possibly establish their own parkrun."