Paralysed gymnast walks again thanks to Robotic suit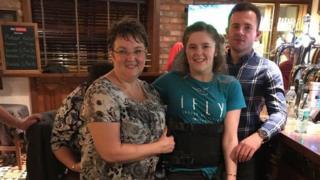 A young gymnast who was left paralysed after a training accident four years ago is now able to walk again thanks to a robotic exoskeleton.
Jennifer Smyth from Eglinton in County Londonderry broke her neck in the fall.
The 20-year-old can now stand and walk around twice a week with the help of a bionic suit, controlled by a smart watch.
She is among the first in Northern Ireland to use the technology, which she describes as "like a robot".
"You literally press a button on the watch and it [the suit] will stand up, press another button and it will walk.
"You also need to lean sideways and forwards to initiate the steps so it's a lot of hard work but it's still amazing."
The suit, made by ReWalk, weighs about 25kg with motors at the hip and knee joints.
It controls movement using subtle changes in Jennifer's centre of gravity. A forward tilt of the upper body is sensed by the system, which initiates the first step.
Repeated body shifting generates a sequence of steps which mimics a functional natural gait of the legs.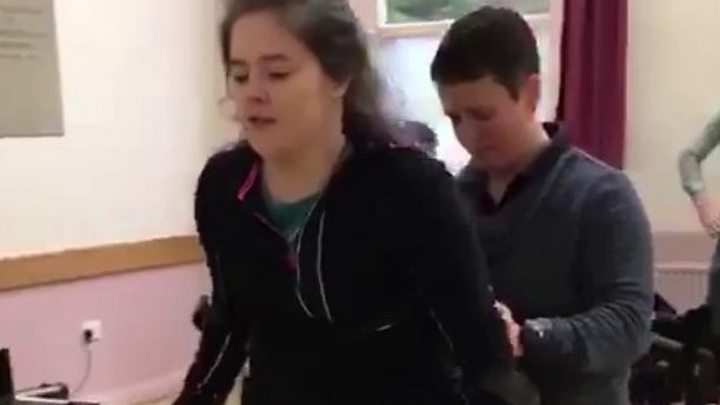 "At the minute I can walk for about an hour before I get really tired, then it takes me a few days to recover," Jennifer said.
"Just to be at eye-level with everyone and noticing how tall I've got because sitting down you never realise.
"Now when I stand up I'm taller than mummy and my coach which is strange. It's just an amazing feeling." she added.
Jennifer, a student at Birmingham City University, had set herself a special Christmas challenge in memory of her father David, who passed away last year.
"My daddy used to be in the Happy Landing bar quite often," she explained.
"When he passed away it was one of my goals to stand at the bar (where he used to sit) with his best friend Kenny.
"So we had a meal in the restaurant and then I walked from there to the bar for a bottle of champagne and a celebration.
"It was a great feeling."