Hotel plans unveiled for Londonderry military site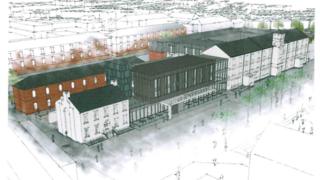 Plans have been unveiled for a £15m hotel at the historic Ebrington site in Londonderry.
The Ebrington Leisure Group say the 152 bedroom hotel will create around 100 new full and part-time jobs if approved.
Ebrington, a former military site, will be handed over to Derry City and Strabane District Council in 2018.
The council described the hotel proposal as a "transformative project".
Director of Environment and Regeneration at the council, Karen Phillips, said the plans are now open for public consultation.
"The Ebrington Square site will be a major element of council's property portfolio, with the potential to drive investment in the Waterside area," said Ms Phillips.
"The new hotel development, if approved, will not only bring visitors to the area, it will also bring jobs, and local people should have their say on how this project develops.
She said the development will respect Ebrington's history.
"There is also the historic aspect to consider, and the fact that the buildings on this site are listed, which will impact on how they should be refurbished and regenerated," she added.
A former naval base that opened in 1841, Ebrington was known was known as HMS Sea Eagle during World War Two, and was an important part of the North Atlantic Command.
The 29-acre site continued to operate as a military barracks until 2003.
It was one of the main spaces used during Londonderry's UK City of Culture year in 2013, hosting BBC Radio 1's Big Weekend, the fleadh and the Turner Prize.
Plans for the new hotel development also include a restaurant and bar, function suite, meeting rooms, a gym and a spa, with on-site parking to the rear of the building.
The submitted proposals state that any development will be sympathetic to the existing historic buildings at the site.
Earlier this year, it was announced that a new distillery and visitor centre is to start operating at the site by the middle of 2018.