Thousands of out-of-hours doctor shifts unfilled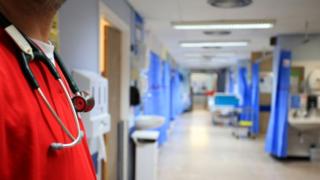 Thousands of GP evening and weekend shifts are going unfilled in the Western Health and Social Care Trust area, the BBC has learnt.
Western Urgent Care, which provides the GP out-of-hours service in the western area, could not cover 3,800 shifts during the last three years.
The information was obtained via a Freedom of Information (FOI) request by BBC Radio Foyle.
Dr Tom Black of the BMA, said the situation is "not good for patients".
The chair of BMA's Northern Ireland general practitioners committee said unfilled shifts are symptomatic of wider pressures on the service.
"When you don't fund the service and let the workload build up, and fail to train a workforce, you end up with a lot of empty shifts, which is not good for patients," he said.
Dr Black said the lack of shift cover is currently being investigated by the Regulations and Quality Improvement Authority.
The FOI request further revealed that the out-of-hours service has used more than 120 medics over that time period, with one individual doctor earning more than £250,000.
A spokesperson for the Department of Health said it intends to deal with medical vacancy rates "as part of a future workforce strategy."
"We recognise that increasing agency and locum costs are not sustainable, particularly at a time of serious financial pressures right across the public sector," added the spokesperson.
Out-of-hours services in the western area operate at Altnagelvin Hospital in Londonderry, Limavady, Strabane, Omagh and Enniskillen and are covered by both GPs and locum doctors.
They operate in the evenings and at weekends, when GP surgeries are closed.
The BBC has asked all six health trusts in Northern Ireland for information on the performance of their out-of-hours service. At present only the Western Trust has responded.