Man shot in paramilitary-style attack in Derry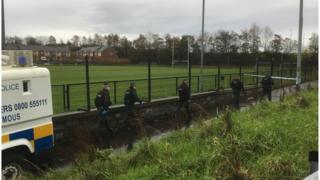 A 44-year-old man has been shot in the leg in a paramilitary-style shooting in Londonderry.
It happened at Madams Bank Road in the Shantallow area on Sunday night at about 20:00 GMT.
The Police Service of Northern Ireland (PSNI) said the man was walking with a friend when he was forced into a tunnel by a number of males and shot once in the leg.
He was taken to Altnagelvin Hospital for treatment.
Police described the shooting - the second in the city in less than a week - as a "brutal and horrific attack".
"It is yet another example of how criminal groups seek to control communities through fear and violence," said a PSNI spokesperson.
Politicians were quick to condemn the attack, with SDLP Councillor Brian Tierney saying locals would be frightened by "another shooting taking place on our streets".
"Those responsible cannot take the law into their own hands," he added.
Sinn Féin Councillor Sandra Duffy called on the PSNI "to step up to the mark" as there was a growing perception that armed gangs were operating with impunity.
"It's important to repeat the message that there is no place for guns on the streets of our city," she said.
"The people of this city have a right to know what the PSNI is doing to bring to book those responsible for these attacks before someone loses their life."