NI paramedic traumatised after second assault in six months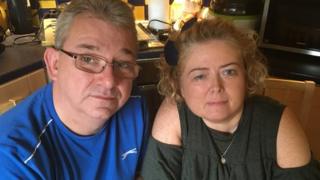 A Northern Ireland Ambulance Service (NIAS) paramedic has said he has been left deeply traumatised after being attacked while on duty for the second time in six months.
Michael McConnell was attacked in the early hours of Monday morning by a patient he had taken to Londonderry's Altnagelvin Hospital.
A 36-year-old man has been arrested in connection to the attack.
Mr McConnell sustained severe bruising and soft tissue damage in the incident.
The paramedic was leaving the patient at the hospital when he was attacked.
He said he was spat on before being physically assaulted. Mr McConnell said it required three men to restrain the patient.
"It shakes your confidence," he said.
"I am not the same person I used to be going to a call now, I am very apprehensive.
"You have to go out with the remit that you have to do what you can for people who need your help. You have to try not to think of the downside, that someone will try and hurt you."
Mr McConnell said he had also been the victim of an attack on St Patrick's Day of this year. He said he has been attacked four times in his career as a paramedic.
"Although we shouldn't accept it as part of the job, it is now to an extent almost expected. It is getting all too common," he added.
Shane Devlin, the chief executive of the NIAS, said attacks can have a knock-on effect on the amount of ambulance cover available in Northern Ireland.
He added that the NIAS will always push for custodial sentences for those found guilty of attacking crew members.
The PSNI said a 36-year-old man has been arrested on suspicion of common assault, disorderly behaviour, assault on police and criminal damage following the incident.