Eglinton flood families move into mobile homes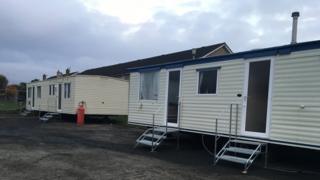 Families made homeless by August's severe flooding in the north-west are moving into temporary accommodation.
More than 100 people were rescued from cars and homes when 63% of August's average rainfall fell in nine hours.
Eleven families - owner-occupiers and Housing Executive tenants - will be living in mobile homes at an emergency site on the outskirts of Eglinton.
They will be provided with starter packs including cutlery, bedding and other basic essentials.
Roads and bridges crumbled, cars were washed away and homes and businesses were destroyed in the storms in August.
Eddie Doherty, the Housing Executive area manager, said the mobile homes were very modern.
"We are hoping the mobile homes will be comfortable for the people who have to live there," he said.
"They will be living very closely with their neighbours."