Brandywell stadium 'should be named after Ryan McBride'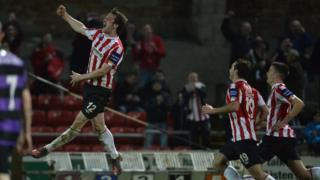 Brandywell football stadium in Londonderry should be renamed after the late Derry City FC captain Ryan McBride, campaigners say.
The 27-year-old footballer died suddenly in March.
The player's aunt, Councillor Patricia Logue, is putting forward a motion to rename the venue at Derry City and Strabane District Council.
"I'm very proud of Ryan," Ms Logue told BBC Radio Foyle. "I hope all the other councillors will support this motion.
"He was a great young man."
Ms Logue said her nephew was born and brought up within a stone's throw of the stadium.
"He was a very unassuming man who was great with all of the young people in the area," she said.
"He is a great role model.
"The Ryan McBride Foundation put the idea to us and the family would be delighted if the motion got passed."
Sinn Féin MP Elisha Mcallion said McBride's death had touched everyone in the city, and particularly those involved with Derry City Football Club.
"Given the fact that the Brandywell Stadium is currently undergoing major redevelopment to turn it into a state-of-the-art modern facility, it is fitting that his legacy should live on through the stadium and club he loved," she said.
A new mural dedicated to the former Derry City captain was unveiled Londonderry in August.