PSNI condemns 'reckless' Londonderry gun attack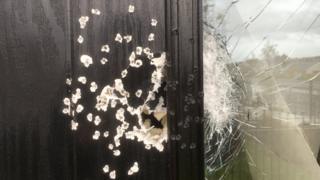 The police are investigating reports of a gun attack at a flat in the Shantallow area of Londonderry.
A number of shots were reportedly fired at a home in Clon Elagh at about 22:20 BST on Tuesday.
Damage was caused to the front door and window of the property. There are no reports of any injuries.
Det Const Richard Donnell said the attack displayed a "sheer recklessness" and "disregard for human life".
According to the PSNI, no one was inside the flat at the time.
Sinn Féin councillor Sandra Duffy called such attacks "wrong".
"There can be no place for the use of guns on the streets of Derry," she said.
"I would call on anyone with information on this incident to bring it forward to the PSNI."