North west floods repairs to top £200,000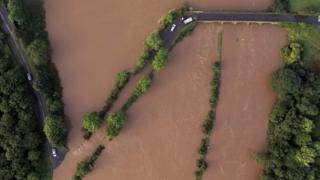 The repair bill for houses damaged by heavy flooding in the north west is expected to exceed £200,000.
In August, storms ripped through the area washing away cars, collapsing bridges and gutting homes and businesses.
According to the Housing Executive, 20 families are still in emergency accommodation in Londonderry.
A mobile home site, which will provide temporary housing until Christmas, is due to open in Eglinton on Monday.
It will serve 11 families who will remain out of their homes until Christmas.
Housing Executive area manager Eddie Doherty said about £175,000 had been spent on repairs so far.
"We are being hampered because we have to get homes completely dried out and certified as dried by a specialist contractor," he told BBC Radio Foyle.
"Over the next week we'll be getting our bills in, but I fully expect it to rise way beyond £200,000."
Work to connect the temporary mobile homes to a drainage system, and provide electricity as well as drinking water, is nearly complete.
'Lessons learned'
Mr Doherty said it had been a "very stressful" time for Housing Executive staff.
"Each family have their own particular story, vulnerabilities and complexities that we've had to deal with and staff have got to know these people personally.
"We're very well experienced in dealing with homelessness," he said.
"However, an emergency caused by the flood, and the trauma that comes with that can be quite difficult to deal with.
"There's a lot of lessons that we have to learn, but it's also been good to serve those people who have been most needy."
More than 100 people were rescued from their cars and homes after 63% of August's average rainfall fell within nine hours.
Huge swathes of land across Derry and Tyrone were affected.
In County Donegal, about 115 bridges suffered flood damage and up to a quarter of these may have to be replaced.
The cost of fixing roads in Inishowen alone has so far been estimated at more than €13.5m.