Eamon Bradley: No third trial for Syria terror accused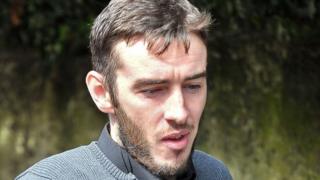 A Londonderry man accused of terrorism offences in Syria will not face a third trial.
Eamon Bradley, 28, of Benview Estate in Coshquin, denied three charges.
They include attending a training camp in Syria and receiving weapons training three years ago. His last trial ended with a hung jury.
A prosecution barrister told Antrim Crown Court on Tuesday that the Public Prosecution Service was "not prepared to proceed again".
It was requested that the charges be left on the books.
The judge said he believed that was the right decision.
Mr Bradley was not in court to hear the ruling.
At the end of his first trial in February, the Crown Court jury in Derry acquitted him of some charges but were not able to come to a verdict on the others.
Last week, after an 11-day trial over five weeks in Omagh, another jury also failed to reach a definitive verdict.
The "bedrock" of the prosecution case was that Mr Bradley allegedly confessed, during eight interviews with detectives, to joining Syrian rebels opposed to President Bashar Assad and the so-called Islamic State.
The defence contended that, far from being a Muslim fundamentalist, Mr Bradley's only crime was being an attention-seeking fantasist.