Kathleen Thompson: Appeal over 1971 Army shooting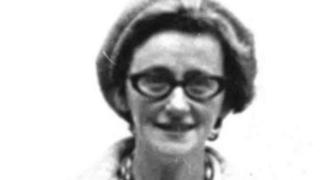 A coroner has issued a fresh appeal over the killing of a woman in Londonderry by the Army nearly 50 years ago.
Kathleen Thompson, a mother of six, was shot dead in the back garden of her Creggan home during a raid in 1971.
Coroner Patrick McGurgan made the appeal ahead of an inquest into her death at the end of the month.
He wants to hear from two girls who may have stood on a fence at Mrs Thompson's house the night she died.
Appeal
In a statement, the coroners service said there may be people who were near Rathlin Drive that night.
"The coroner is particularly interested to hear from two girls, who may have stood on the wall of the fence at the home of Kathleen Thompson on the night in question.
"Mr Patrick Thompson (Kathleen's husband) may have spoken to these two girls."
Anyone with information has been asked to make contact with the Coroners Service before 20 October 2017.
It is the second appeal in four months.
An inquest into the death of the 47-year-old was ordered in September 2013.
It came after the attorney general concluded that the original investigation was not thorough.
Mrs Thompson's case is being supported by the human rights advocacy group, the Pat Finucane Centre.