NI's homeless LGBT community find 'safe space' in Derry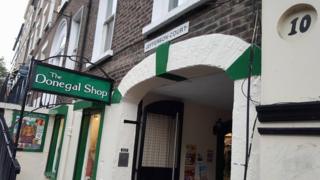 "I think what we see with our eyes is not always what's really going on with someone."
Martin McConologue has spent the best part of the last 30 years working with some of the most vulnerable people in Northern Ireland.
He has helped, accommodated and befriended street drinkers, rough sleepers, drug addicts and gamblers.
Those with mental illness, those prone to lawlessness and many more who have just fallen on hard times.
And he knows about another, less visible, cause of homelessness.
It can be hidden at first glance. It can be met with confusion, rejection, ignorance and hate.
"We assume somebody is straight, we assume somebody is male or female and maybe they are not," he explained.
"Perceptions can be blurred. I think if you are LGBT, it can be very daunting."
Which is why, as a project manager with the voluntary organisation First Housing, Martin has spearheaded the creation of a new space for homeless people from the LGBT community - a "safe space", if you will.
The pilot project is the first of its kind in Northern Ireland and is located at Jefferson Court in Londonderry.
It will not be solely for the LGBT community, but it will have a special focus on their care.
The aim is to make it a comfortable and positive place for everyone, regardless of identity or background.
Its staff are trained in the use of appropriate transgender language and pronoun, as well as naming individuals according to their preference.
In the English language, the word "he" is used to refer to men and "she" to refer to women.
But some people identify as neither gender, or both.
Pronouns such as "they" and "them" can also be more appropriate.
'Thrown out of homes'
Of the 25 apartments in the Derry complex, about a dozen are currently used by LGBT residents.
Some are teenagers who have left, or been forced out of their family home for a variety of reasons.
In some cases, parents have reacted with hostility towards their sexuality and thrown them out of the family home.
"Coming into a new organisation and having to explain all that again? You won't need to do that here," said Mr McConologue.
Eye-opening experience
Inspiration for the idea came after a visit to Harvard University in Boston, the United States.
Mr McConologue, along with 10 other LGBT activists from all over the island of Ireland, saw first-hand how they were using "safe spaces" to deal with similar issues.
They spent time working with staff at an eight-bed unit for homeless LGBT people under the age of 25.
It was an eye-opening experience.
According to Mr McConologue, society in Northern Ireland is evolving and people have to move with the times.
He strongly believes that, if successful, Jefferson Court can become a blueprint for other social housing projects.
'One less hurdle'
Ellen Murray is chairwoman for the charity Gender Jam NI, which is run by and for the transgender community in Northern Ireland.
"Hate crime and intimidation is an issue for a lot of LGBT people as regards to housing," she said.
A vocal supporter of the Derry scheme, Ms Murray said that homelessness disproportionally affects the LGBT community.
"A major reason is rejection from families, when people come out as gay or bisexual, or especially as trans, they can find they are no longer welcome," she said.
"Either people are forced out of their homes or they leave for their own safety.
"So having specific services - ones that are proactively and publically advertised, welcoming and inclusive - makes a real difference."
And while the project is still in its infancy, local artist and gay rights activist Mel Bradley thinks it is a crucial step.
"Particularly within the trans community - some of whom I speak to - they can feel incredibly vulnerable in their environment and have been attacked," she said.
"As someone who has been through supportive housing in the past, that's one less hurdle you don't have to try and get over."