Londonderry traders fear for future after planning rules relaxed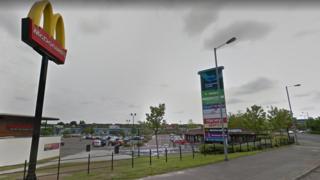 The deputy mayor of Derry City and Strabane District Council has said he fears for the future of some businesses in the city centre.
John Boyle's warning follows a decision by councillors to relax regulations at Crescent Link retail park.
Permission was granted for a "mixed retail" shop despite local authority officers' recommendation for refusal.
The decision means traders, including so-called bargain shops, could potentially open up on the site.
Up until now, stores had primarily been restricted to selling bulky goods, such as furniture and kitchen appliances.
'Crocodile tears '
Eamonn Gee, who owns an off-licence near the Crescent Link in the Waterside, believes it could be another nail in the coffin of city centre trade.
"I despair, although I'm not entirely surprised," Mr Gee told BBC Radio Foyle.
"The council spends millions bringing in consultants and experts to give them advice, and then they ignore it.
"They're not encouraging the town centre, they're encouraging you to go out of town and then they're crying when the town centre dies."
In recent months, a number of city centre traders have expressed concern about out-of-town shopping, rates and rent prices.
'Ghost town'
The SDLP's John Boyle was adamant councillors should have voted against the change.
"I've heard councillors from other political parties bleating on and crying crocodile tears about the loss of business in the city centre," Mr Boyle said.
"Yesterday's decision was a litmus test, and specifically for councillors from the unionist block who supported the change, and those from Sinn Féin .
"What they have done is support out-of-town retailing which would be better suited to bringing further footfall to the city centre.
"The next time we hear of job losses, such as Austins department store, you might want to ask them what their feelings are," he added.
Austins was one of Europe's oldest department stores when it closed last year with the loss of 53 jobs.
DUP councillor Hillary McClintock, who voted in favour of the decision, said her party took the issue of city centre trading "very seriously".
"Although we want to protect our city centres, we also have to be mindful of this major shopping area in the Waterside," she said.
"We need to be attracting people here because we don't want it to become like a ghost town.
"By varying the conditions, it's actually going to help to boost footfall for those (Crescent Link) retailers as well as protecting jobs and investment."
A spokesperson for Derry City and Strabane District Council said that the decision applies to only one unit at Crescent Link.
"We cannot comment on any potential proposals or planning applications in the future which may be submitted to Council," they added.