Museum of Free Derry exhibit removed after protest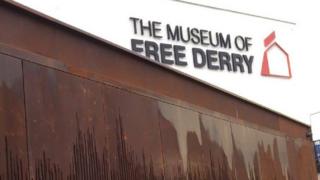 The Museum of Free Derry has agreed to remove an exhibit that had sparked a sit-in protest by two women.
Helen Deery and Linda Nash were angry that the names of dead British soldiers were included alongside their brothers, who were killed by the Army.
They have now ended a six-day sit-in protest after the Bloody Sunday Trust, which runs the museum, agreed to remove it.
Talks to resolve the dispute over are expected to take place next week.
The museum said it was in the middle of a consultation with the families of the other people listed in the display.
Jean Hegarty, from the Bloody Sunday Trust, admitted that things could have been handled better.
"It's been hugely difficult for the two individuals staying there 24 hours a day," she said.
"That couldn't have been very pleasant for either of them and, to be fair, they have only minimally disrupted things. But it didn't make for a great work environment.
"I regret that there's so much (hurt) in the community and yet we can't recognise hurt in other areas. It is a sad reflection but here we are, and hopefully from this point on the talks will resolve it."
Jean Hegarty, whose brother Kevin McElhinney was shot dead on Bloody Sunday, said there was a lot of pain on all sides.
"I can understand that it causes hurt, even I am sometimes caught unaware as I pass and see my brother's name. But that doesn't alter the fact that 53 people lost their lives because of conflict.
"I think they are considered as statements of fact. I see it as a listing of those individuals who lost their life through the conflict in Free Derry," she added.