Daniel O'Donnell concert raises thousands for flood victims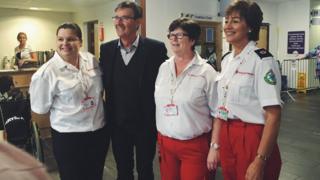 A concert to help victims of last month's devastating floods in County Donegal has raised nearly £30,000.
About 1,200 people packed into Letterkenny's Aura Leisure Centre to see some of the biggest names in Irish country music.
Daniel O'Donnell, who helped organise the event, said he hoped it could make a difference to those worst affected.
"It's a great gathering of everybody, and it's incredible what you can do in a few days," he told BBC Radio Foyle.
"All of us are here to sing and play and perform, to support all of the people involved in the floods."
Donegal County Council has said that up to 50 bridges were damaged by the storms, up to half of these may have to be replaced.
More than 100 people were rescued from cars and houses in the north west after 63% of August's average rainfall fell within nine hours.
"It's a huge, huge upset in our lives and I just hope they're able to get back to normality as soon as possible.
"Hopefully, it'll make a big difference to those that need a bit of help," Mr O'Donnell added.
The star-studded bill also included Nathan Carter, Dominic Kirwan and many more.
The funds will go to the Irish Red Cross which is helping families in Inishowen whose homes were destroyed by floodwater.
The charity estimated that as many as 500 homes could have been affected.