Dad in cystic fibrosis 'wonder drug' Orkambi bid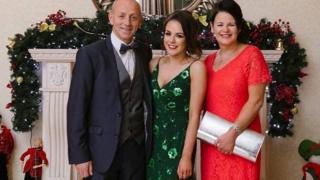 A County Tyrone father whose daughter has cystic fibrosis is campaigning for new treatment to be made available on the NHS.
Rachel McHugh has been using the drug Orkambi as part of a clinical trial for the past three years.
Her father Liam said the new drug had "totally transformed her life".
Orkambi was granted a UK licence in 2015, but it has since been deemed too expensive by the health advisory body, NICE.
The drug costs £104,000 per year per patient and reduces symptoms in patients.
Cystic fibrosis is an inherited condition in which the lungs and digestive system can become clogged with thick, sticky mucus.
Doctors have previously said they were "excited" by the positive effects of the treatment.
Liam McHugh, who has raised more than £140,000 for the Cystic Fibrosis Trust, told BBC Radio Foyle he wants to raise awareness of the condition.
His daughter can continue to receive the new treatment because she was selected for a trial.
"Rachel has been on Orkambi for three-and-a-half years and we have seen the benefits of it," he said.
"It has totally transformed her life.
"It hits the heart strings because Rachel is 25 and since the day she was born we have been dealing with her condition.
"On an average day, a person with cystic fibrosis would have to consume about 50 tablets a day and that's only the tip of the iceberg."
Despite the daily challenges, Rachel has gone on to achieve academic success at Ulster University in Derry and hopes to collect her PhD at the end of the year.
"She one very determined young lady," Mr McHugh said.
"All I can say is that I'll be the proudest father on this planet when she becomes Dr Rachel McHugh.
"To think that when Rachel was born, her life expectancy was around 16 years of age, she has a daily battle with this disease but she gets on with it.
"I'm doing this for her but I'm doing this for everyone else out there as well," he added.
Cystic Fibrosis
Cystic fibrosis is an inherited condition in which the lungs and digestive system can become clogged with thick, sticky mucus
It can cause problems with breathing and digestion from a young age.
Some of the main symptoms of cystic fibrosis can include recurring chest infections, difficulty putting on weight and frequent, wet-sounding coughs
There's currently no cure for cystic fibrosis, but a number of treatments are available to help control the symptoms
The condition can be fatal if it leads to a serious infection or the lungs stop working properly
More than 100 people in Northern Ireland are still waiting to access Orkambi, according to the Cystic Fibrosis Trust.
"This is a breakthrough treatment which tackles the underlying cause and it slows down the progression of the condition by half," said James Barrow from the trust.
"We're saying, let's do a managed access scheme, give them the treatment see how it works out in real life and then work out the price."
Prof Carole Longson, director of the NICE Centre for Health Technology Evaluation, said they would "welcome" the drug if it was cheaper.
"We can only recommend treatments when we are certain they are both clinically effective and represent good value for money.
"If the company is able to put forward a proposal that provides Orkambi at a cost-effective price, we would welcome it," she said.