Derry homes evacuated after pipe bomb 'explosion'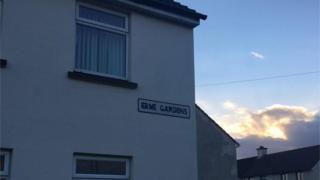 A pipe bomb thrown into the garden of a house in Londonderry "partially exploded", a local councillor has said.
Police said they received a report that a device had detonated in the Irish street area of the city at about 22:20 GMT on Wednesday.
A number of homes in the Erne Gardens estate were evacuated during the security alert.
Army bomb experts examined the object and declared it a "viable pipe bomb-type device".
No one was injured during the incident, but police said that two men and a woman, who were in the house at the time, were left very badly shaken.
DUP councillor Drew Thompson said some 40 residents were moved out of their homes and taken to a local community centre.
"I went there immediately and a lot of the residents were out on the street after they had heard a loud bang," he said.
"The police appeared on the scene and obviously sealed the area off and decided to evacuate the surrounding area.
"I condemn this outright there is no place for this in our society," Mr Thompson added.
Police have removed the pipe bomb for further examination and appealed for information.