Bishop Daly's ginger cat Tom finds new home in Coleraine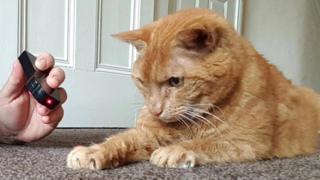 A homeless cat belonging to the Late Bishop Edward Daly has found a new parish in County Londonderry.
Ginger feline Tom had been the former Bishop of Derry's cat for about 15 years before his death in 2016.
Dave Graham from Coleraine said he came across the moggy after searching a pet re-homing site for a new kitten.
"I asked who his owner was and they told me that Bishop Edward Daly's housekeeper had brought him in," he told the BBC. "I was shocked!"
"They had an urgent request to find this guy a home, he's 16 years old and he's deaf.
"Maybe his congregation didn't know that his cat was homeless."
Putting the 'cat' into 'Catholic'
Mr Graham, who has previously worked for the charity Cats Protection, said he visited the Rainbow facility after one of his own cats passed away over Christmas.
"Originally, I had been looking for a kitten so I went down there, I had a look around," he said.
"It's a wonderful place and I went inside and saw him sitting there sound asleep, a beautiful ginger tom.
"I was told that his owner had sadly passed away last year and he was brought into us looking for a new home."
Mr Graham, who already has a number of cats at home, explained that Tom had literally landed in Bishop Daly's lap many years ago.
Edward Daly had gone for a scan and was expecting bad news. However, on his way home from hospital the cat appeared, and sat on his lap.
The stray had been viewed as a good-luck charm ever since.
"He puts the cat into catholic so to speak," said Mr Graham.
"I don't think he's been with other cats before but now he's starting to calm down and he's made a friend and everything.
"He's in a good home at the moment, he could be one of those cats that needs to live alone but no matter what he'll be in a home for the rest of his life.
"Hopefully Bishop Daly is looking down from up above with a big smile on his face," he said.