Dungiven: Two people treated for smoke inhalation after house fire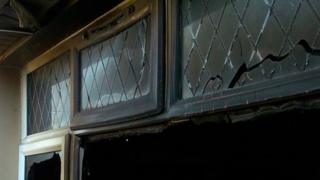 A man and a woman in their 50s have been treated in hospital for smoke inhalation after a fire at a house in County Londonderry.
The blaze broke out at a bungalow on the Foreglen Road, Dungiven, just after 19:00 GMT on Wednesday.
Two Shih Tzu dogs died in the fire, which the Fire Service (NIFRS) believes was accidental.
A fire in a rear bedroom had been extinguished prior to the arrival of firefighters.
The owner told the BBC he and his wife tried to save their dogs while the house was on fire.