Norovirus closes Brooklands Londonderry care home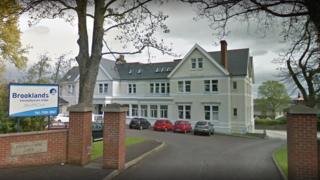 A Londonderry care home has been temporarily closed to the public after some of its elderly residents were diagnosed with norovirus.
At least a dozen residents and some staff at Brooklands care home on the Northland Road are thought to be suffering from the winter vomiting bug.
The illness has already led to the closure of wards at the city's Altnagelvin and Waterside hospital.
Brooklands owner, Therese Conway, said it could not happen at a worse time.
"We are a 40-bed care home so you're talking about a large percentage of residents who have been affected," said Ms Conway.
"It is quite disappointing, this is usually a happy time in our care homes so the fact that our residents can't enjoy the entertainment we would have had in place is sad."
All new admissions to the care home, along with residents Christmas celebrations, have now been cancelled.
"Carol singers and music and the residents Christmas party have had to be cancelled but hopefully we can reconvene all that when the norovirus is cleared," Ms Conway said.
"It is difficult on the residents and difficult for the staff but in difficult times we do all pull together."