Funeral for second Tyrone crash victim Killian Doherty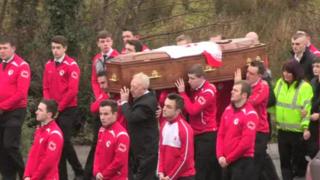 The funeral has taken place of a second County Tyrone man who died in a road crash in Omagh.
Killian Doherty was killed along with his friend, Maurice McCloughan, when two cars collided on the A5 Doogary Road on Saturday.
Both men, aged 19, were heavily involved in the GAA.
Drumquin Wolfe Tones manager Ryan McCallion said he was a "well liked" and "vital part" of Drumquin.
"The whole team is devastated, the club is devastated and the whole town is devastated," said Mr McCallion.
"Killian was a big part of Drumquin not only as a footballer but as a person."
He was buried following Mass at St Patrick's Church in Drumquin.
Maurice McCloughan was buried at St Lawrence's Church in Fintona on Tuesday.