'Physically handicapped' toilet sign replaced after criticism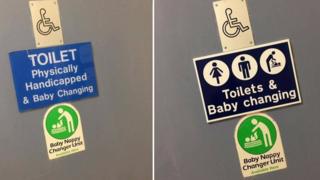 A Northern Ireland health trust has replaced a sign which attracted criticism for referring to disabled people as "physically handicapped".
Last week, campaigner Peter Mitchell called the toilet sign at Limavady Health Centre "deeply offensive".
Mr Mitchell had said there was an onus on health care providers to use more acceptable language.
The new Western Health Trust sign makes no reference to physical disabilities apart from using the wheelchair symbol.
Peter Mitchell, a local actor and wheelchair user, had said that for him and many others, the word "handicapped" was outdated and insulting.
"It comes from mid 17th century when disabled people were seen as second class citizens, they literally had to beg on the streets with their cap in their hands.
"Do people look at me because I am in a wheelchair, as a second class citizen, that I have nothing to offer?" he asked.
It is understood the sign was replaced on Monday.