Ohio attack: Footballer describes 'surreal' attack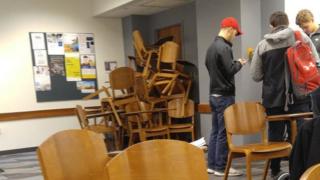 A former Irish League footballer has said he is lucky not to have been caught up in a US University attack that left 11 people injured.
Niall Logue, a former Institute FC player from Londonderry, is on a soccer scholarship at the Ohio State University.
He was in a classroom "four buildings away" from the attack on Monday.
Student Abdul Razak Ali Artan drove his car at a group of people before attacking them with a knife.
Mr Logue said students had been instructed to "run, hide, if need be, fight" in a series of college message alerts.
"At around 09:50 students got a message on the school's alert system to say there was an incident on campus and to be aware," he said.
"Then there were a few more texts to say there was an active shooter on campus."
He said it was both "very scary and very surreal".
"We always hear about these things but you never think you will be part of this kind of scenario."
The Londonderry student said students tried to stay calm amid the chaos.
"There was definitely a sense of panic, but for the most part people carried themselves in the right manner," he said.
The Islamic State group has said it was behind the car and knife rampage.
The IS-affiliated Amaq news agency called, 18-year-old business undergraduate Artan, who was shot dead after the attack, a "soldier".