Brandywell, Derry: Martin McGuinness says further funding guaranteed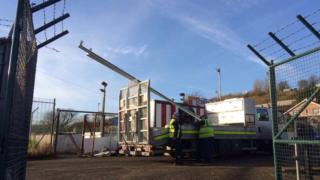 The deputy first minister has said he "can guarantee millions of pounds" in extra funding for the future redevelopment of Brandywell Stadium.
Martin McGuinness said an announcement on funding of the second phase of redevelopment at the Londonderry stadium will be made in early 2017.
The first phase of redevelopment work gets under way this week at the Lone Moor Road ground.
It has been home to Derry City since the club's inception in 1928.
Mr McGuinness told BBC Radio Foyle Derry City will qualify for more funding - that will finance the second phase of redevelopment - via Stormont's Sub Regional Stadia Strategy.
"I would expect an announcement early in the new year.
"It's not just Derry City, there are clubs like Glentoran and others in the Irish League very anxiously awaiting this."
Mr McGuinness said the Brandywell funding was "100% guaranteed".
"It's fair to say we are talking about millions. All of us recognise when you have first class facilities, more and more fans will come".
Wok begins this week on the first phase of the ground's development which includes a new stand, changing rooms and a new synthetic playing surface.
The second phase could further increase capacity to 5,000.
Mr McGuinness said the ground's modernisation would also breathe new life into the local area.
Meanwhile , Derry City director Denis Bradley has said the club is still looking for a home for the 2017 season while work continues at Brandywell.