Altnagelvin Hospital: Staff 'tired, burnt out, stressed'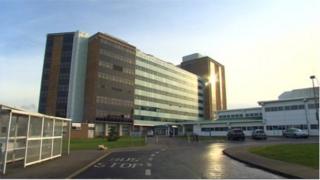 Northern Ireland's health regulator has raised concerns about staffing levels at Altnagelvin Hospital's Emergency Department.
The Regulation and Quality Improvement Authority said the department was "not adequately staffed" for "appropriate patient care" at busy times.
The report said staff were "tired, burnt out and stressed".
A spokesman for the Western Trust said it welcomed the report and accepted its recommendations.
The report by the RQIA follows an unannounced inspection at the Londonderry hospital in July.
Two medical and surgical wards were also inspected where the report identified "good adherence to best practice in the delivery of patient care".
Olive MacLeod, RQIA's chief executive, said staff in all three departments were caring and committed and showed "empathy to patients".
"However, our inspection of the Emergency Department identified a range of areas that required improvement."
Not adequately staffed
Mrs MacLeod said staffing levels were concerning.
She said there were delays in recruitment and bank or agency staff could not always be secured.
"Staff told us they were feeling tired, 'burnt out' and stressed as a result of low staffing levels.
"RQIA's inspectors considered that, at busy times, the Emergency Department was not adequately staffed to ensure appropriate patient care".
A spokesman for the Western Trust said the Emergency Department had experienced an increase in the number of people attending for treatment and a rise in the number of GP referrals.
"Between November 2015 to September 2016, an additional 6,613 people attended Altnagelvin's Emergency department, an increase of 13% compared to the same period the previous year," he said.
"The department also saw a 21% increase in GP referrals representing an additional 1,294 persons in the same period compared to the previous year".
The trust's director of acute hospitals, Geraldine McKay, said 14 medical and nursing Emergency department staff had been recruited in May and 12 were now in post.
She said: "Our staff are a credit to the health care system and to the Western Trust and, as such, we have ensured that all staffing issues are taken seriously.
"We have in place additional support for staff and regularly review closely the demands on staff in this area".