Family devastated at grave vandalism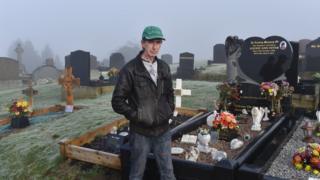 Vandals who targeted the grave of a woman who died following a fatal overdose have been branded "lowlifes" by her family.
Twenty-year-old Louise Diver, from Strabane, died in March 2015 after overdosing on prescription medication.
Her mother, Caroline, discovered the vandalism when she visited her daughter's grave last week.
Ornaments had been removed and decorative stones taken from her grave.
Her father, Davy Diver, told the Strabane Chronicle it was difficult to understand how someone could steal anything from a grave.
"Caroline rang me in tears to tell me and I just couldn't believe it when I saw it," he said.
"Whoever did this, they are lowlifes and they need to catch a grip of themselves. I was devastated and shocked when I saw it but it has left Louise's brothers and sisters in a bad way too."
Parish Priest Fr Declan Boland said the incident was "beyond belief".
"It defies comprehension that anyone would desecrate a grave, let alone that of a young girl whose life ended so tragically," he said.
The family have now restored the grave and replaced the stones.