Slaughtmanus GAA player Kevin King dies during match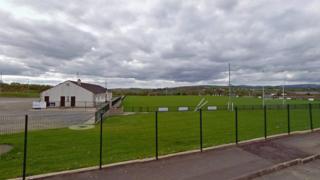 Tributes have been paid to a 22-year-old Gaelic player who died suddenly during an indoor football match in County Londonderry.
Kevin King, who plays for St Mary's GAC, Slaughtmanus, is understood to have taken ill on Thursday evening.
St Mary's chairman Eddie Deery described Mr King as a promising footballer with a bright future.
"Kevin was so popular, it is a very tragic event and especially at his age, being a promising footballer," he said.
It is not yet known how Mr King, who had been a member of the club since he was four years of age, died.
He was a playing a match with friends at an indoor pitch in Campsie when he fell ill.
"My own two sons were actually playing with Kevin in the indoor game last night, they're taking it bad," said Mr Deery.
"We've another group out in China taking part in a GAA activity and they have booked flights and are on their way home."
"It's a tragic loss for Kevin's parents John and Margaret, his brother Martin and their family and friends - and indeed all the community and everybody from Slaughtmanus football club.
"It's a big, big loss."