Londonderry: 'Islamic State' threat man jailed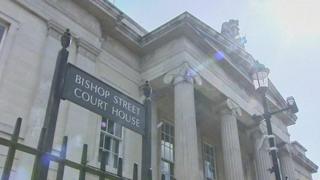 A 34-year-old man who threatened to "slash and behead" a Londonderry taxi driver after shouting he was "just like Isis" has been jailed for 14 months.
Michael Coyle, whose address was given as care of The Simon Community in Ballymena, was sentenced on Tuesday.
He admitted pulling a knife from his pocket on Christmas day and shouting at a driver in Nippy Taxis office: "I will slash you" and "I will behead you".
The judge said Coyle had left the taxi driver and his family terrified.
Three weeks after Coyle threatened the driver, he asked the man to retract his statement to police.
Intimidating a witness
He also threatened to wait for the taxi driver outside his place of work.
The judge said the courts had to protect taxi drivers who provided an important public service, particularly on Christmas Day.
The defendant pleaded guilty to three charges: threats to kill, possessing a knife with intent and intimidating a witness.