David Caldwell: Derry bomb victim's family want inquest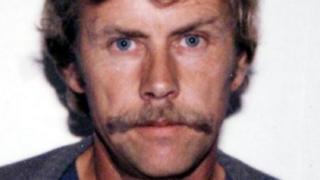 The family of a former UDR soldier killed by the Real IRA in Londonderry have called for a fresh investigation into his death.
David Caldwell died after picking up a lunchbox packed with explosives at a TA base in the Waterside in 2002.
A former solider has claimed in a recent book that the bombers were under surveillance before the attack.
Mr Caldwell's partner Mavis McFaul and daughter Gillian told the BBC that they needed closure.
"It's re-opened old wounds again, you don't know if it's true or not," Gillian McFaul said.
"We're angry and hurt, why didn't they come forward earlier to say? It would be like closure for us."
Mr Caldwell, a 51-year-old father of four, had been involved in refurbishing facilities at Caw camp.
He was critically injured in the blast and later died at Altnagelvin Hospital.
Members of the McFaul family met First Minister Arlene Foster and the Ulster Unionist leader Mike Nesbitt at Stormont on Monday.
Mavis McFaul said it was important that questions raised in the new book were answered.
"It is pretty hurtful that some man knows details about Davy's death and couldn't come forward before this.
"There's evidence the police have (more detail) and they're not releasing it until we get another inquest into the murder.
"I know there's a lot of people who lost their lives, like the Claudy bomb victims and things like that, but we can't go on.
"Thirty years down the line? No, we couldn't do it. We just want an end to it." she said.