Niall Grace: Institute footballer 'back from brink' after head injury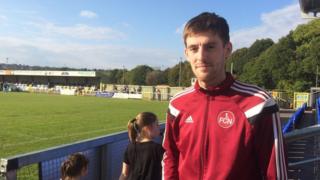 Institute footballer Niall Grace has said he is eager to return to training after sustaining a serious head injury on a night out in Londonderry.
The 24-year-old had been in an induced coma for more than a week in the Royal Victoria Hospital in Belfast after an altercation in September.
The Derry man said he is coming to terms with how lucky he was to survive.
"I think I'm still coming to grips with how serious it was, I just gather from my family how close I came," he said.
The midfielder was part of the crowd on Saturday to watch his Institute teammates defeat Lurgan Celtic in Drumahoe.
"I'm starting to understand how lucky I am. People in Derry really do look out for each other, I got so many messages, and that kind of thing really took me back to be honest, its amazing," he said.
"I just want to get back playing football...it's pretty frustrating for me but, again for my family and friends, I'm happy enough to wait because I know how scared they were for me."
Mr Grace said while he is desperate to return to training, he is waiting for the green light from doctors.
"I'm feeling like myself and each day it seems to be getting better but I'm just glad to be out and about watching a bit of football.
"I just can't wait to get back to playing football, get back to fitness and back to where I was. That's the ultimate goal," he added.