Derry and Strabane councillors 'should give up Israeli iPads'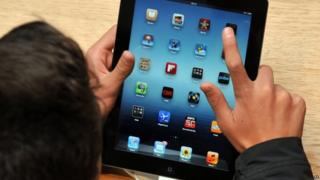 Derry City and Strabane District Councillors, who backed a campaign to boycott Israeli goods, have been urged to hand in their council issued iPads.
A Sinn Féin motion was passed by council last week to boycott Israeli goods.
DUP MLA Gary Middleton, a critic of the motion, said councillors should to give up their iPads if they were "serious about the boycott".
Apple use flash memory components manufactured by Israeli company Anobit.
"It is quite clear that there should have been more information sought before the motion was brought," Mr Middleton said.
"I think we all realise the huge role that the research and development sector within Israel plays.
"The iPhone I'm using, the iPads the council use, they all use components that come out of Israel.
"The motion has raised the serious issue of discrimination, I put the question to the first minister and she herself had been contacted by the Jewish community expressing their concerns," Mr Middleton added.
Sinn Féin councillor Christopher Jackson, who proposed the motion, defended its aims.
"The wording of the motion actually states that council investigate the most practical means of implementing the Boycott, Divestment, Sanctions (BDS) campaign.
"The comments from Gary Middleton are nonsensical and he is just looking to grab headlines.
"The motion itself was symbolic and in my view it has been successful in raising awareness in the council area and elsewhere.
"Any attempts to try and link the BDS campaign with anti-Semitism is absolutely wrong," Mr Jackson said.
On Friday, Gerald Steinberg, chairman of the Belfast Jewish Community Council, told BBC Radio Foyle that the decision to implement BDS was "very regrettable".