Queen's plaque to be reinstated at Bellarena train stop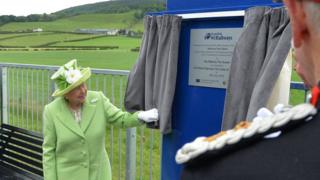 A plaque unveiled by the Queen at a County Londonderry train stop will be reinstated in October, Translink have confirmed.
The plaque was taken down just 24 hours after it had been unveiled at Bellarena station during a royal visit in June.
The Department of Infrastructure said it was taken down due to "vandalism fears".
Translink said the plaque had been taken down but would be mounted in a more suitable location.
A Translink spokesperson confirmed the plaque would reinstated "in early October, following internal discussions to expedite the process".