'Petrol bomb' attack on Londonderry's Dove House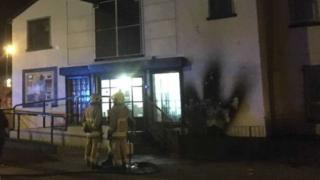 There has been a second attack on a Londonderry community centre in the space of two days.
Police are investigating reports a petrol bomb was thrown at Dove House at 23:30 BST on Thursday.
The front of the building was scorched and people's lives had been put in danger, said Sinn Féin councillor Patricia Logue.
"The community does not want this, and those behind it need to stop," she said.
On Wednesday, a window was smashed and paint was thrown at the Bogside-based centre.
"It's very sad that I am once again having to comment on an attack on Dove House, the second in less than 48-hours," said Cllr Logue.
"As well as attacking this vital community building those responsible have also put the lives of people living in the vicinity in danger."
Police have appealed for witnesses.