City of Derry Airport: Women removed from London Stansted plane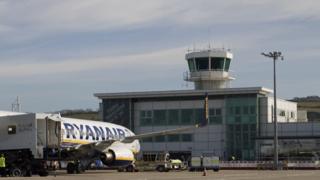 Two women have received community resolution notices for disorderly behaviour on a Ryanair flight from London Stansted.
The pair, both in their 30s, were removed from the plane when it arrived at City of Derry Airport earlier on Wednesday.
It followed a request from the pilot of the 06:55 BST flight.
The pair were released several hours after being arrested on suspicion of endangering an aircraft.
In a statement, Ryanair said: "The crew of this flight from London Stansted to Derry requested police assistance upon landing in Derry, after two passengers became disruptive in-flight, who were removed and detained by police.
"We will not tolerate unruly or disruptive behaviour at any time and the safety and comfort of our customers, crew and aircraft is our number one priority. "