Ryanair cuts flights from City of Derry Airport to London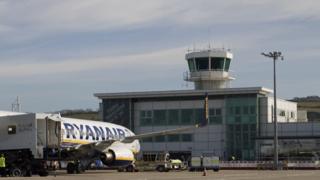 Ryanair is to reduce the number of flights it operates from City of Derry Airport to London Stansted this winter.
The Irish airline said it plans to cut its weekly service to London from seven down to six. The change will come into effect from 30 October.
City of Derry Airport said it understands the move has been made because of the budget airline's financial results and growth plans.
Ryanair said it wants to "pivot growth" away from the UK towards Europe.
A spokesperson for City of Derry Airport said management is involved in ongoing discussions with Ryanair regarding the winter schedule.
They added that in addition to the remaining six weekly services to London Stansted, the airport provides five weekly services to Glasgow International and five weekly services to Liverpool.
The Airport said it had also enjoyed a very successful summer season.