Ronan McGavigan: Funeral for two-year-old crash victim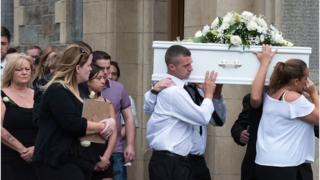 The funeral of a two-year-old boy who died after being hit by a car has taken place in Londonderry.
Ronan McGavigan was killed on the Lone Moor Road at about 13:15 BST on Sunday.
The McGavigan family's parish priest, Fr Eamon Graham, said the boy had been out playing and enjoying the sunshine when he ran out on to the road.
The funeral mass was held at St Columba's Church, Long Tower on Wednesday.
Speaking to BBC Radio Foyle on Monday, Fr Graham said he had visited the McGavigan family.
"It's almost like they are looking at it from outside because the enormity of it is so great that how do you begin to come to terms with it?"
"By all accounts Ronan was just a lovely boy, full of the life and devilment that a two-year-old would be.
"They're not long back from a family holiday," said Fr Graham, "I suppose they are trying to hold on to those good memories of what they had together.