Strabane security alert: 'Explosive parts' discovered in County Tyrone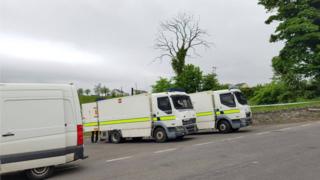 Component parts for an explosive device have been found during a security alert in Strabane, County Tyrone.
Police said a suspicious object was discovered during a "planned search" at a laneway off the Evish Road.
One home was evacuated. Army bomb disposal officers later declared the object to be "component parts of a viable explosive device".
The security alert is now over and all roads in the area have reopened to traffic.