Londonderry: Green light for new 24-bed city centre boutique hotel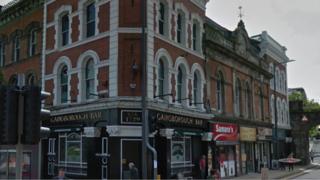 Plans for a new 24-bed boutique hotel in Londonderry city centre have been given the go ahead.
The developers, Elm Village company Ltd, aim to refurbish listed buildings at Foyle Street and Shipquay Place.
The proposed hotel will also include bar and restaurant facilities. Derry City and Strabane District Council approved the plans on Wednesday.
Local councillors and business leaders have welcomed the plans.
City centre manager Jim Roddy said Derry needs to be able to cater for an increase in tourism.
"It's a growth industry in our city providing much needed jobs and I think this is a great news story.
"The city centre hotel managers that I speak to tell me they are already breaking records even more than 2013.
"All you need to do is walk around the centre on any day and see the amount of tourists that are coming here."
Boutique hotels tend to be smaller and more design focused than standard accommodation.