Derry City to make formal complaint over alleged Cork sectarian abuse claim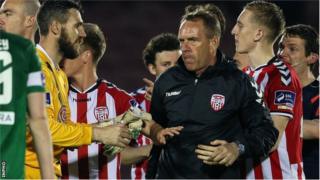 Derry City Football Club will lodge a formal complaint over alleged sectarian abuse towards Kenny Shiels at Friday night's match against Cork City.
It relates to a touchline argument at the end of the match. The Derry manager was allegedly called a "sectarian name" by a member of the Cork backroom team.
Cork chairman Pat Lyons said the club had no knowledge of the incident.
The complaint is to be lodged with the Football Association of Ireland (FAI) by Wednesday.
By that time, the FAI will have had time to read the reports of both the referee and the match delegate who was at Turner's Cross for the Premier Division game.
Derry City chairman Philip O'Doherty met Kenny Shiels on Monday and a decision was made to stand by their manager.
Friday's defeat was Cork City's first in three attempts against the Candystripes.
After the game, Shiels said he was disappointed with the home team's reaction after the final whistle.
"I'm really angry at their lack of hospitality towards me at the end as hosts," Shiels told BBC Sport NI.
"The way they treated me was outrageous but I'll not tolerate that. I'll fight my own corner. I'm not going to be walked over like that.
"I was absolutely disgusted with their behaviour and I'll be making decisions to see what we can do to get something done about it.
"They're not going to call me names down here."
Cork City manager John Caulfield told RTE he was "surprised" by Shiels' allegation.
"I think it was just excitement. He [Shiels] was obviously really disappointed.
"We were excited and probably some of our management were excited.
"At the same time there was nothing in it and I'm surprised with that comment."