Education Authority: Processing 'error' leaves NI school workers unpaid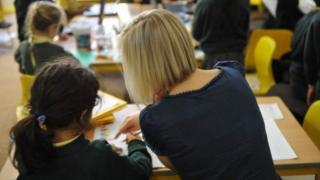 More than 5,000 non-teaching staff at schools, including classroom assistants and caretakers, have not been paid on Monday.
Workers were supposed to receive their salary on 15 May. The error mainly affects those paid by the Education Authority (EA) at its Omagh office.
EA has apologised and blamed a processing error. Staff should receive payments at midnight on Monday.
Phyllis Taylor, one of those affected, said staff were "angry".
"I typed in my number and there were no wages," she said.
"So I immediately phoned my supervisor because I thought it was a mistake only on my wages.
"He told me everyone was affected at the campus. It left me thinking there's an awful lot of people depending on their money on the 15th and it is crucial to them.
"Quite a few I know have children and they depend on this money coming in every month on the 15th," said Ms Taylor.
'Processing error'
Ms Taylor, who works at a school in Londonderry, said she understood mistakes can be made but had little sympathy.
"If they haven't got any kind of a backup and they are solely dependent on their wages it is going to be sore on them," she said.
"Of course you'd be angry and of course you'd be frustrated because if you need that money and it wasn't there then you'd be in trouble.
"I would accept that mistakes are made, but if it's a computer error then they need to get that money in tonight. You would think their computer system would be a bit more robust than it is now."
A spokesperson from the EA said that the wages would be paid at midnight.
"The subsequent timing of the credit to individual staff bank accounts will be dependent on each bank's operational procedures," they said.
"We apologise for any inconvenience this may have caused.
"The authority will ensure that no member of staff is financially disadvantaged due to penalties relating to late payments."
"If staff have any concerns, they should contact the EA payroll office."