Shooting victim's mother suffers 'broken arm' during Londonderry gun attack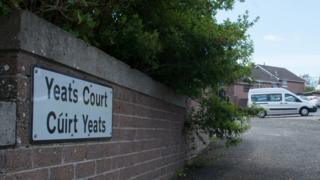 A woman has had her arm broken during a gun attack on her son in Londonderry, police have said.
On Sunday a 30-year-old man was shot in the ankles after a paramilitary-style attack in Ballymagroarty.
It happened at around 03:35 BST. He was taken to hospital for treatment to his injuries.
The man's 58-year-old mother was also injured in the incident and was taken to hospital suffering from a fractured arm.
The SDLP councillor, John Boyle, said there was a "malevolent spectre" hanging over the community.
"My understanding from the word on the street is that the shooting victim's mother did sustain injury," said Councillor Boyle.
"I understand that it may well have been a broken wrist in a struggle which took place in that attack in the very early hours of Sunday Morning.
"Clearly this is another example of the shadow of the gunman who hangs like a malevolent spectre over our community and people like this really only operate to strike fear into our communities. These are heinous acts of brutality on fellow human beings," he said.
Police have appealed for information.